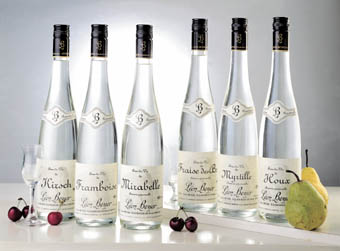 The quality of the products from the Alsatian distilleries have been known throughout the world for hundreds of years. The reputation as well as the secrecy in keeping the traditional taste and fruit in the nose has been passed down from generation to generation.
The importance of the forementioned quality has to do with the location of Alsace and it's climate. These conditions allow the fruit to ripen longer and maintain it's flavor. The climate of the area is especially suited to Cherries, Pears and Raspberries which enables them to achieve a richer fruit flavour.

( To know the preparation )

" The fruits have a heart and the art of the distillers is to us to reveal it in his plenitude and its diversity "
We propose :
| | |
| --- | --- |
| Marc de Gewurztraminer 45° | Alisier 45° |
| Quetsch 45° | Sureau 45° |
| Eau de vie de Mirabelle 45° | Myrtille 45° |
| Kirsch 45° | Houx 45° |
| Eau de vie de Framboise 45° | Liqueur de Framboise 25° |
| Eau de vie de Poire Williams 43° | Liqueur de Poire Williams 25° |
| Vieille Prune 43° | Liqueur de Mirabelle 25° |
| Gratte Cul 45° | Crème de Framboise 20° |